Due to pandemics and geopolitical confrontations, sustainability issues are currently getting less attention. Nevertheless, it is crucial not to lose sight of issues such as climate change, plastic waste, inclusion and other sustainability topics. That's why the International Center for Education and Exchange (IBB Dortmund) is launching an educational course on sustainable event management "Events for Future".
 The course is held jointly with partners Agency for Support of Sustainable Cities and Communities «Interakcia» (Georgia), SIQA – Georgian Association of Educational Initiatives (Georgia) and NGO «Free Citizen» Civic Initiatives Support Center (Armenia) and experts from other countries with the support of the Ministry of Foreign Affairs of the Federal Republic of Germany.

Who may take part in the educational course:
participants from Eastern Partnership countries (Armenia, Azerbaijan, Belarus, Georgia, Moldova and Ukraine) and Russia, regardless of their current location, who are involved in organizing events and would like to do so with care for future generations. When forming groups, we will hold online consultations to discuss any special requests and needs of participants.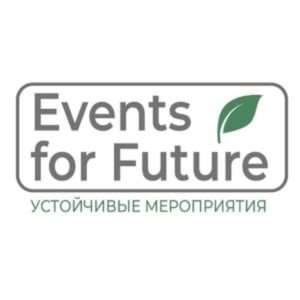 The Events for Future educational course will run from November to December 2022 in a Blended Learning format and will include 4 mandatory online modules with various practical assignments and tests followed by 3 online workshops to deepen the knowledge gained in the course. Also, participants living in Georgia or Armenia can attend 1 face-to-face three-day workshop in Batumi (Georgia), while
participants from other countries can join this workshop online.
The course will be available in two languages, Russian and English, so the participants could choose the group with the language of learning most comfortable for them. 
Studying course materials will take 3 to 4 hours per week.

Those who successfully complete the mandatory online modules can benefit from additional modules (as an option).
In this course, you will study different approaches to sustainable event management and learn the best international practices in this field and will be able to use this knowledge in practice.

During the training, you will get:
– Practical knowledge in the sustainable organization of events and event management.
– Ready-to-use checklists for organizing events based on the principles of sustainability.
– The opportunity to apply this knowledge in practice through practical tasks and get feedback from the
course experts.
The workshop will be held in close contact with experts from civil society organizations and sustainability initiatives. Working with experts from different fields, you will expand your knowledge and professional networking.

Participation in the course is free: the organizers cover travel costs, accommodation and meals.
Please complete the online application form  by October 27, 2022 (inclusive), if you want to attend the course.
If you have any questions, please get in touch with us via email: lab.events4future@gmail.com. 
Realized with the support of the Ministry of Foreign Affairs of the Federal Republic of Germany.