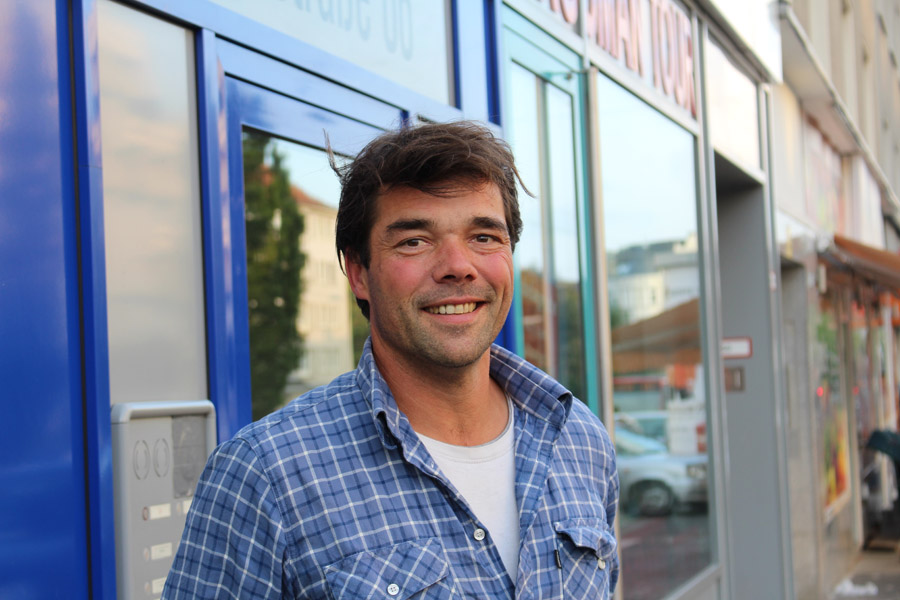 At International youth camps, gardener Markus Fleischer shows young people from all over Europe how to create something together, even if the words might be lacking.
"My name is Markus Fleischer, I am 49 years old, gardener, and for nine years I now live in Dortmund-Nordstadt. There I support young people in their beginning careers.
Since 2013 I am active in ewoca³, a programme for European youth encounters. At two-week camps with youths from all over Europe, I am responsible for everything connected to nature and construction. I provide tools and guide them through the practical tasks. In one of my latest projects, I worked on a "green classroom", together with a group of youths. For a summer classroom we built benches and a hedge from living plants like willows.
The projects are to be sustainable, so they need to be used after the workcamp has ended. The participants do not go and buy new building materials, but instead they use already-existing materials, which are then upcycled and used differently. For this I provide them with tools. While there is a concrete task, it is actually all about giving young people the right tools for their own ideas and projects.
At the camps, people from countries with different languages and cultures meet. This, at first, is a barrier to be overcome by the youths. But there are prejudices against each other in everyone's heads; that much is shared. Even getting to know the names of the other participants and saying "Hey, how are you? You want to sit with us?" can become a challenge.
Initially my English was weak as well. I could communicate with just the basics from school, hand gestures, and the Google translator. People are shy and approach each other only slowly. But as soon as the groups in the camps begin to mix, soon they all become one big family not wanting to separate anymore. And always there is great sadness in the end.
At first, the topic of Europe was a side issue for me. I only noticed what Europe means when the camps got all about language, food habits, and cultures: The Italians are used to pasta and white bread with Nutella. In Minsk there is no white bread; in Belarus breakfast is usually a warm meal. So everyone just picks what they like or looks for compromises.
My job and my life were narrow. I haven't seen Europe. I never was interested – in spite of news and everyone one reads. Only by chance did I get in touch with the topic of Europe and the youth camps. I saw the language barrier and was really nervous. And then I learned that opening up is great. The meeting at the camps is planned; it takes place in a secure framework, and everyone shares a goal. This aroused my curiosity about other countries.
Before, I virtually never travelled. When I had the opportunities, I didn't do it. Without Europe I would not have learned to find a way of opening up to other people. I would not have learned that I can have the courage to speak, even in my weak English.
Today I no longer want mass tourism. I am interested in getting to know the people living where I travel to. In the camps I got to know people who invited me to come visit again. I hope that Europe does not close itself in, but that there is a shared idea of not letting other countries like Italy and Greece down."
Written down by Chantal Stauder