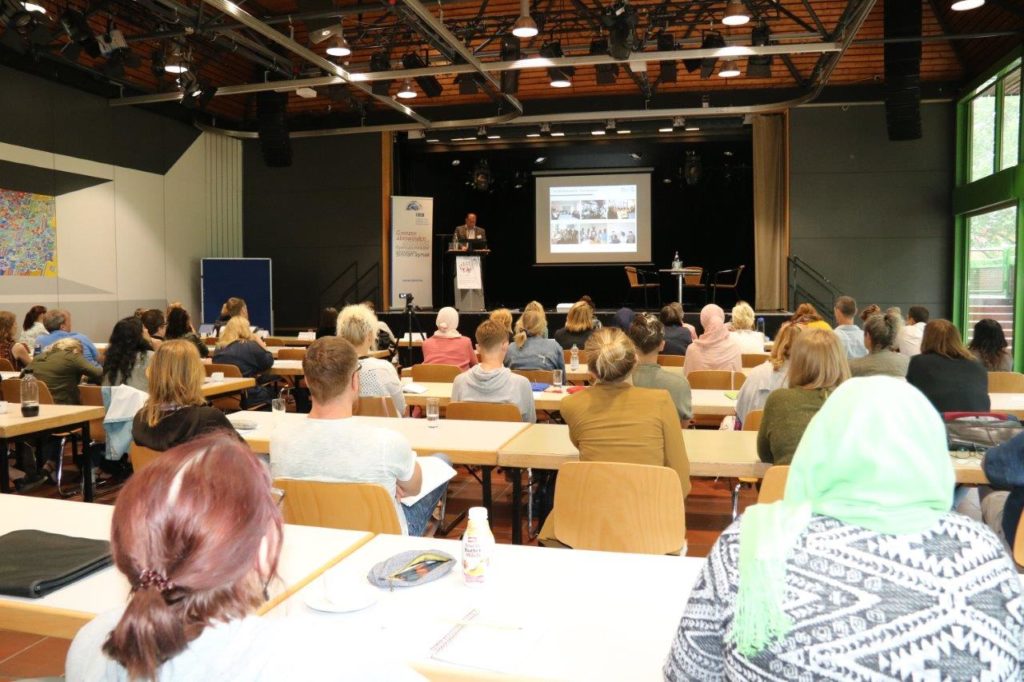 Where does pleasure end and addiction begin? Employees of drug advisory centres probably will answer this question differently than a refugee from Afghanistan would. "In our prevention work with migrants and refugees we can not presume our level of knowledge, but have to develop culturally sensitive services", summarises Hildegard Azimi-Boedecker, Department Manager for Job International and Migration, at the conclusion of the Inklud:Mi professional conference, which took place on Tuesday, 5th of June 2018 at Dietrich-Keuning-Haus, on invitation of the International Association for Education and Exchange in Dortmund (IBB e.V.). The more than 60 participants – among them many alumni of the DoKuMente training programme – gathered information on the services and showed their interest for further trainings on this topic.
Especially young refugees are possibly in greater danger when arriving in Germany. Traumatic experiences during their flight, little experience with readily available alcohol, for example in mixed beverages with beer and a different approach to drugs and painkillers in their home countries could lower the barrier to intoxication in a dangerous way, reports Ahmet Kimil, certified psychologist and Manager of  Ethno-Medizinisches Zentrum e.V. Hannover. "Some people bring their addiction with them, some acquire it only during flight", he reported in Dortmund.
The empirical data on addicted and addiction-prone migrants is generally sparse, all speakers agreed. In any case, the increasing numbers of addicts from Afghanistan, Iran, and Iraq is striking. In youth welfare services there are reports of cases where migrants are overrepresented. On the other hand, in German statistics on addiction support, people with migrant backgrounds, about 18,5 percent of the total population according to recent numbers, are relatively underrepresented with 13,2 percent, so Kimil. However, the numbers may be diluted by access barriers. "We can't wait for the research", says Kimil. There are addiction problems in all social milieus. However, Ethno-Medizinisches Zentrum evaluated testimonials from the three target groups, young migrants, ethnic German immigrants, and refugees.
While in young Muslim migrant milieus alcohol is rather frowned upon, cannabis and hashish are partially accepted, even though both are forbidden on religious grounds. In this target group, gambling addiction is also not unusual. Heroine consumption, injected or orally consumed is increasing.
In the target group of ethnic German immigrants Ethno-Medizinisches Zentrum observes a motivation for consuming hard drugs like heroin, which can then lead to HIV infections. This is partly based on peer pressure.
The heterogeneous group of refugees also partially presents a further openness for strong painkillers and narcotics, which are used as a kind of self-medication for dealing with traumatic flight experiences.
In her keynote speech, Hildegard Azimi-Boedecker further added to the approach to narcotics, with sometimes strong variations depending on the country of origin. In Afghanistan and Iran opium has been used as a trusted medication against pain for centuries. With money for medicine lacking, opium is sometimes even given to small children. Another reason is, especially in Northern Afghanistan, women working 14 hours a day to make a living. This can only be managed by consuming opium. They also sedate their children, as childcare is lacking. There is little by way of detoxification and therapy, so there might be migrants already arriving with addiction experiences. In Iran, the consumption of drugs and alcohol is also a phenomenon of youths in the upper classes – often students of both genders – for compensating the ruling, restrictive situation in the country. "Both countries have a large-scale drug problem, only worsened by the massive opium cultivation in Afghanistan."
In the Middle Eastern region, a specific approach to medication can be observed: Medicine has to be strong and rapidly effective! An approach which prepares the ground for multiple application of painkillers and synthetic drugs. Also, in the Maghreb countries of Northern Africa and in Yemen, Kat, an intoxicating juice from plant leaves is an openly available and respected stimulant.
In Germany, refugees are confronted by a "drinking culture" with its own norms and rules, which first have to be learned. The effects of lighter alcoholic drinks like beer are less well-known. Often only Whiskey or Vodka count as "real alcohol". All these predispositions have to be taken into account in preventative health care.
In the morning, Ahmet Kimil already presented successful preventative measures, like the MiMi programme, Intercultural Addiction Support, and information brochures in languages appropriate to the different countries of origin.
In three afternoon workshops, Tatjana Kaaz of LWL-Klinik Dortmund, Lea Würzinger of the Feedback drug counseling competence centre and addiction prevention in Dortmund, and Andrea Piest of "Notdienst für Suchtmittelgefährdete und -abhängige Berlin e.V." presented new ideas and culturally sensitive materials for addiction prevention and health support. A culturally sensitive handbook for counseling addicts and those with psychological disorders, a special app for refugees in Berlin on the topic of addiction, as well as contact points for peer trainings, where refugees support other refugees, are promising approaches, and for the Dortmund region as well.
"The exchange of experiences has also shown very different taboos in different target groups and countries of origin, especially in HIV prevention", summarises Hildegard Azimi-Boedeckerg. "At this point the best-practice examples are more like a patchwork. Here exists urgent need for further education and networking, as addiction problems develop into pressing social problems."